Thu 07 Oct, 2021
11:55 GMT
MATCHER - Open Innovation programme by ART-ER
This open innovation programme is organized by
ART-ER
on behalf of the Emilia-Romagna Region, with the support of Deloitte Officine Innovazione. It
aims to
scout startups/ scale-ups
to create business matches between them and
10 corporates selected
by ART-ER, with the aim to initiate pilots and collaborations for the resolution of specific business needs.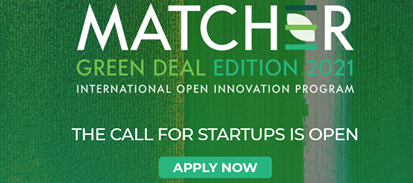 The challenges of the International Open Call focus on Green Deal and are grouped into 3 main thematic clusters:
•

Digital Processes & Smart Monitoring;
•

Greener production & Technologies.
Once admitted to the program, the start-ups and the scale-ups will have access to a matchmaking platform, where they will have the opportunity to come into touch with corporates and organize meetings for getting to know each other and, possibly, start a collaboration on a specific challenge.
Applications for this phase are open until November 30th, while matchmaking calls will be allowed until December 10th. The sooner start-ups / scale-ups will register, the longer the time they will have to interact with the corporates.
A final event will be held on December 16th (tbc): in addition to the institutional presentation of the project and its main results, additional matchmaking and networking sessions will be organized.
Further details on the specific challenges, on the list of companies participating in the program and further practical information, such as how to apply are available on the website.
Share this post