Tue 14 Feb, 2023
15:34 GMT
Bionanopolys Open Call Biobased nanomaterials: a sustainable solution for a wide range of applications
EBN News
EU|BIC News
EU|BIC Services News
European Union
Funding
Biobased nanomaterials, which are derived from renewable sources such as plants, are gaining increasing attention for their potential to replace traditional materials in a wide range of applications. These materials have unique properties that make them suitable for use in fields such as textiles and pharmaceuticals, packaging, and foams.
One of the key advantages of biobased nanomaterials is their sustainability. Unlike traditional materials, which are often derived from fossil fuels, biobased nanomaterials are renewable and have a lower environmental impact. This makes them an attractive alternative for industries that are looking to reduce their carbon footprint and improve their sustainability, towards a more circular economy model.
One type of biobased nanomaterial that has attracted significant attention in recent years is polymer bio nanocomposites. These materials combine the unique properties of biobased polymers with the enhanced performance of nanomaterials, resulting in improved properties, enhanced biocompatibility and biodegradability.
The Bionanopolys Open Innovation Test Bed, OITB, a European-funded project, is a research initiative focusing on developing biobased nanomaterials, including polymer bionanocomposites. As part of this project, we are launching an open call for research, product development and upscaling in this field.
ITENE, AXIA, CTP, CENTI and CEA will show the capabilities and services of the open innovation platform of the H2020 project BIONANOPOLYS OITB, in which they participate, and how to apply to the open call that will be opened in a virtual launching day to be held on 17 February at 11:00 am CET. You can get more info and REGISTER for free here.
During the open call, a maximum of 5 successfully selected applications will receive free-of-charge state-of-the-art technical validation using the most suitable technical services out of the upgraded 14 pilot plants, as well as one additional service from the Bionanopolys portfolio service for external users (one transversal or complementary service within the scope of standardization, regulation, safety, environmental and innovation and business services).
We are looking for experts from universities and specialised research centres who want to develop bio-based materials, or who want to validate materials they have developed in-house and also companies:
– producing, supplying, or using biomass, bionanocomposites or bionanomaterials.
– involved in the production of polymers, cellulose paper, non-woven fabrics, foams, or coatings,
– active in the packaging, agriculture, food, cosmetics, pharmaceutical, hygiene, textile, and 3D printing sectors
To participate in the open call, please visit our website https://www.bionanopolys.eu/open-call/ and submit your application until 30 April 2023. We look forward to seeing your contributions and helping advance the biobased nanomaterials field through the Bionanopolys OITB.

This project has received funding for the European Union H2020's research and innovation program under the grant agreement number 953206.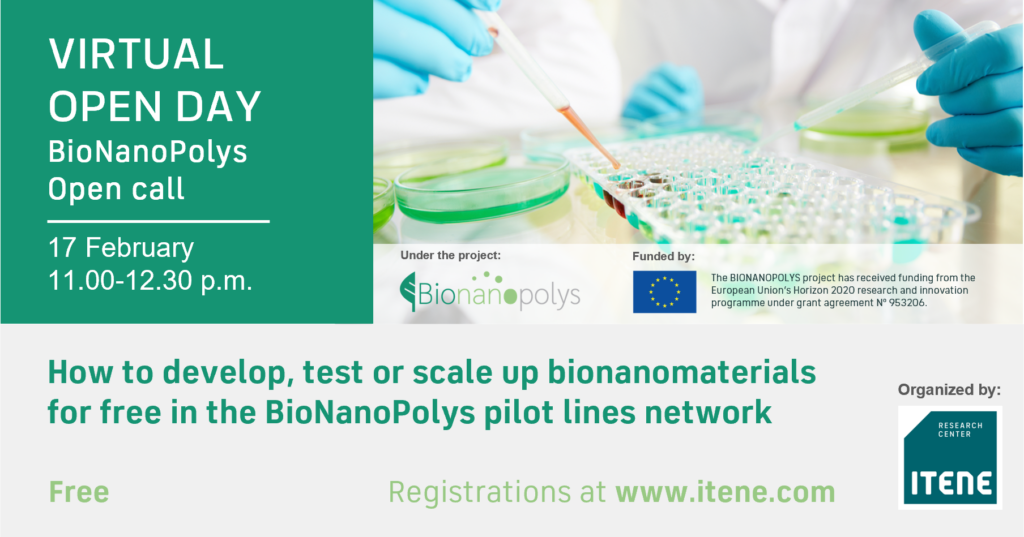 Share this post