Thu 23 Jun, 2022
00:00 GMT
EU|BIC Essentials - Training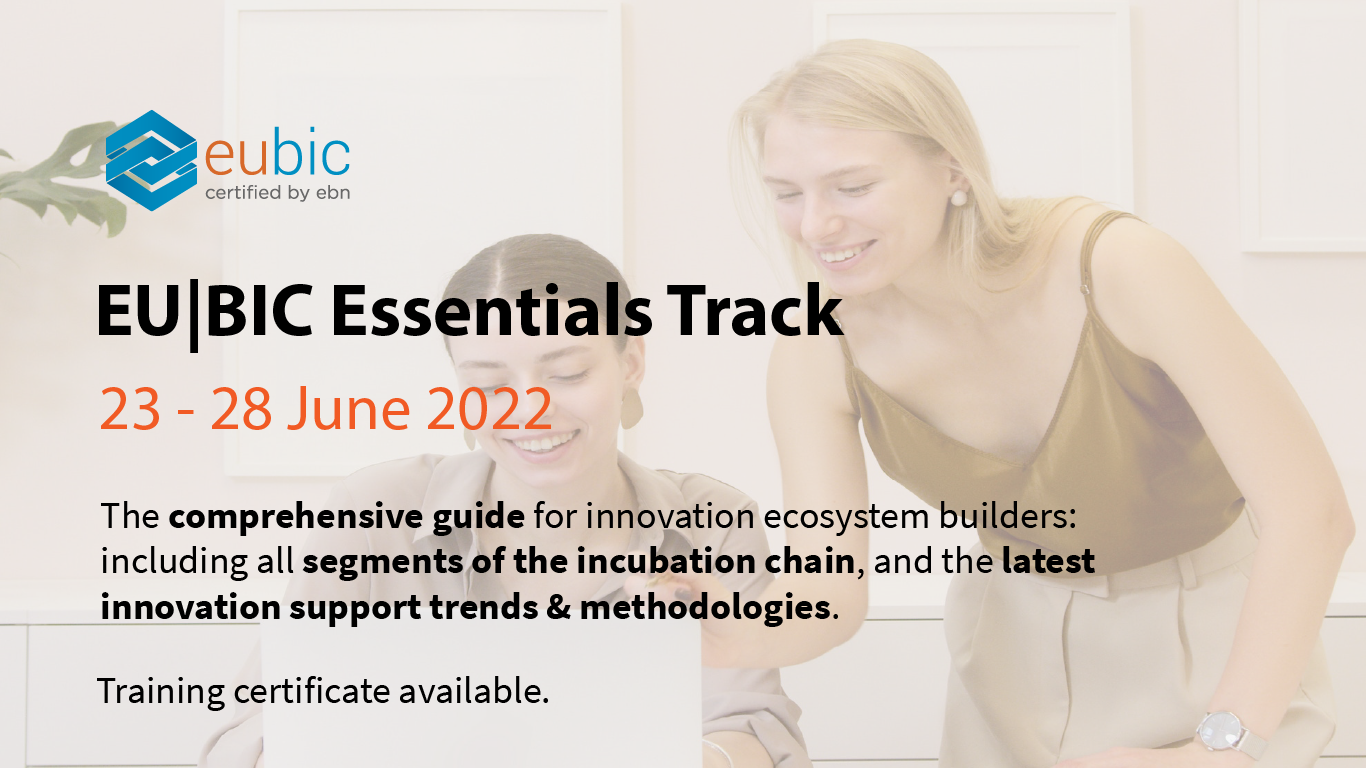 Drawing from the lessons and the best practices in business support delivery from across more than 35 countries worldwide, the EU|BIC Essentials Training Programme provides in 4 modules a comprehensive guide to all segments of the incubation chain and explores the latest trends in ecosystem building and innovation support. The training provides participants the opportunity to interact with trainers with extensive hands-on experience in incubation management and to put knowledge into practice.  
Participants will earn a learning certificate, issued by EBN, the leading pan-European community working on innovation-stimulating solutions, for excellent business support actors (incubators, accelerators, science centres, universities, clusters, development agencies). 
For who 
The training programme is designed for all practitioners who want to find out more about business support processes, values and strategies that underpin the global EU|BIC community. The content is designed for professionals seeking to access the foundational knowledge and resources necessary to improve Business Innovation Centres capacity and expand their client service offering portfolio. 
The EU|BIC Essential Training Programme is open to members of EU|BICs as well as to external organisations, working with incubation and entrepreneurship ecosystems or to organisations that are considering becoming EBN members and obtaining the EU|BIC Certification label.   
Takeaways 
In this key training track, participants increase their knowledge and hands-on skills in: 
Understanding the values and impact that underpin the EU|BIC community.

 

Promoting the organisation's activities in the catchment area and lead-generation activities ensuring a high-quality deal flow. 

 

Strategizing for reduced failure risk for your client startups/ SMEs.

 

Offering tailored startup services to the needs of innovative entrepreneurs in your region.

 

Essential services to support internationalisation and scale-up activities.

 
Training schedule 
You can find the full schedule  of the Training including the speakers' list here
The training will be delivered online over four sessions of 3-hours each, on 23, 24, 27 and 28 June.   
Modules 
Module 1: What does it mean to be an EU|BIC?  Missions and standards that underpin the European Certified EU|BIC community and Launch of the 2022 EU|BIC Impact Report 
Module 2: Creating and operating a Business Incubation Centre. Process of Creating an Incubator. Stimulation and Selection Services- How to stimulate innovation and entrepreneurship to ensure a high-quality deal flow with lead-generation activities. 
Module 3: Startup Services- What services do innovative entrepreneurs need in your territory? How to support early-stage startups with marketing, coaching, mentoring, access to early-stage funding and acceleration programs.  
Module 4 – Scale up and Internationalisation Services: From internal diagnosis of processes and products to modernization to targeted marketing and internationalisation. Learn how to leverage our international network to provide hands-on support to companies. 
Brochure
Learn more about the training days in the EU|BIC Essentials Track Training – brochure.
Pricing & registration 
The EU|BIC Essential Training is free for Certified EU|BIC members. Enrolment for non-members is priced at €349 – (excl. VAT) which allows access for two team members per organisation. Non-members enrolled in the training, can apply for full reimbursement of the admission costs if the organisation applies for a membership (Certified EU|BIC) within three months from the start date of the training.  
A learning certificate is issued by EBN to each participant at the end of the training. 
To attend register your attendance here 
For registration and more information contact Florian Sora florian.sora@ebn.eu or Amal El Ghadfa amal.elghadfa@ebn.eu  
Share this post