Fri 01 Dec, 2023
11:00 GMT
Join the Narwhal Challenge and Discover Brest's Maritime Expertise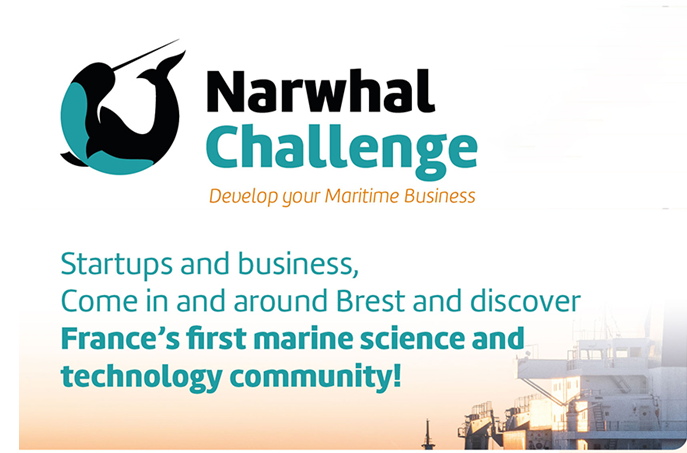 Startups looking to explore France's vibrant marine science and technology community now have an exceptional opportunity: the Narwhal Challenge. This unique challenge invites a select few startups to discover Brest's maritime expertise during a 3 to 4-day immersive experience. Through meticulously organized 1-to-1 meetings, startups and businesses can engage with key experts from Brest's marine community, including startups, SMEs, researchers, innovation specialists, and more. The Narwhal Challenge in 2023 promises to be an enriching experience for those seeking collaboration and growth.
About the Narwhal Challenge: The Narwhal Challenge caters specifically to startups and businesses aiming to tap into the extensive maritime ecosystem in Brest, France. It provides a platform for interaction, knowledge exchange, and collaboration between startups, SMEs, key accounts, researchers, innovation specialists, and banks. The ultimate goal is to create opportunities for growth and innovation within the marine science and technology sector.
Past Success: In 2019, the Narwhal Challenge welcomed startups from various countries, including the Netherlands, India, Canada, and Germany. These innovative companies represented diverse domains such as marine acoustics, oil spill clean-up, aquaculture, and fisheries. Each participating startup had the privilege of engaging with at least eight companies or research laboratories, fostering valuable connections and potential partnerships.
What's in Store for 2023: The Narwhal Challenge 2023 offers a comprehensive program with numerous benefits for participants:
Handmade Bilateral Meetings
Visits of Research and Test Infrastructures: Participants will gain exclusive access to cutting-edge research and test infrastructures in Finistère.
Pitch Your Company: Entrepreneurs can seize the opportunity to present a pitch of their company during the 4th General Assembly.
Covered On-Site Costs: The Narwhal Challenge organizers will cover on-site expenses, including catering and accommodation for four nights, ensuring a comfortable and worry-free stay in Brest.
Apply Now and Join the Narwhal Challenge! Only 4 to 5 startups will be selected to participate in this exclusive opportunity. Don't miss out on the chance to be one of them. Register here –> Narwhal challenge, international call for maritime startups – Campus mondial de la mer (campusmer.fr)
Note: Applicants are reminded to submit their applications by September 8th to be considered for the Narwhal Challenge.
Share this post